Ricky Salmon is the Managing Director of BigFish Media Ltd, a voiceover agency based in Surrey, and a Freelance Newsreader for BBC Radio 2.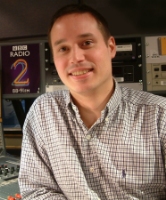 Ricky has previously worked for BBC Radio Solent, TalkSPORT and BBC Radio Five. Ricky's corporate voiceover clients include Nokia, Canon, Cosmos Holidays, Olympic Holidays, Party Gaming, Fiat, Dell, PC World, Eli Lilly, Honda, Viacom, Reuters, KFC, British Airways and Southern Water.
He has also recorded voice-overs for Challenge Jackpot TV, Euronews TV, Channel TV, Classic FM, Absolute Radio, 95.8 Capital FM, Real Radio, Wave 105 and many more. Ricky Salmon's countless telephone "on-hold" voiceover clients include Tokenline, Thatcham, The Carphone Warehouse, Signs Direct, Essex Auto Group, Cynnetix, Blue Sheep, Birling Property Services and Ashbridge Domestic.
In 1998 Ricky Salmon started freelancing for BBC Radio 2, while he was also producing and presenting The Evening News for BBC Radio Solent. Initially he read the news on a few overnight shifts (with Janice Long and Alex Lester). During the years, he gradually worked his way into more high-profile bulletins and can now be heard every weekend reading news for Zoe Ball, Sounds of the Sixties and Jonathan Ross on Saturdays; Aled Jones, Steve Wright' Sunday Love Songs and Michael Ball on Sundays. Ricky also works from time to time Ken Bruce, Jeremy Vine, Steve Wright and Chris Evans.
Since 2001, Ricky has been a Continuity Announcer for the World Radio Network. He was also a Continuity Announcer for Granada Plus TV (now ITV3) and a Newsreader and Continuity Announcer for BBC Radio 5. He has also worked as a presenter for the BBC Training Unit.
Ricky Salmon qualified as a Broadcast Journalist in 1989 at Highbury College in Portsmouth, but before the course had finished, he had already started working at Ocean Sound, Power FM and South Coast Radio in Fareham, Hampshire. It was here that he learnt his craft initially as a technical operator and Broadcast Assistant (compiling travel news, playing out pre-recorded programmes). During his time as a Flying Eye reporter, air sickness often got the better of him, earning him the name "Sicky Salmon".
After some overnight presentation work, he became the producer of a phone-in programme, and presenter of music programmes on South Coast Radio. A lucky break, thanks to an old work colleague, got him into the old BBC Radio 5 as an Announcer - a very similar job to his current BBC Radio 2 work; at one time he was working in the same studio. During this time, Ricky also worked for AA Roadwatch, GWR, BBC Radio Oxford and BBC Wiltshire Sound.
When BBC Radio 5 became BBC Five Live, Ricky had the dubious honour of being the last voice on the station, closing it down for the final time. He worked at the new BBC Five Live as a trails producer for a short time, before moving back to the south coast as a Senior Journalist for Ocean Sound. A few months later, Ricky was back in London as an overnight presenter for LBC (then London News 97.3), before moving back to Southampton a year later, this time as the presenter/producer of The Evening News at BBC Radio Solent.
After a few successful stints reading the news at BBC Radio 2, Ricky jumped at the chance of more and left BBC Radio Solent, and, alongside Newsreading at BBC Radio 2, he worked as a Journalist at TalkSPORT and Virgin Radio.
Ricky is also Managing Director of BigFish Media Ltd which is based in Woking in Surrey. BigFish Media has its own state of the art digital ISDN-equipped studio and Ricky works with a hand-picked selection of the UK's leading voice-over artists with years of experience in radio, tv, film and commercial production.
For contact information and to check Ricky's availability see BigFish Media
Ricky has compiled a host of useful information if you're interested in work as a voice-over artist at voiceovers.org.uk